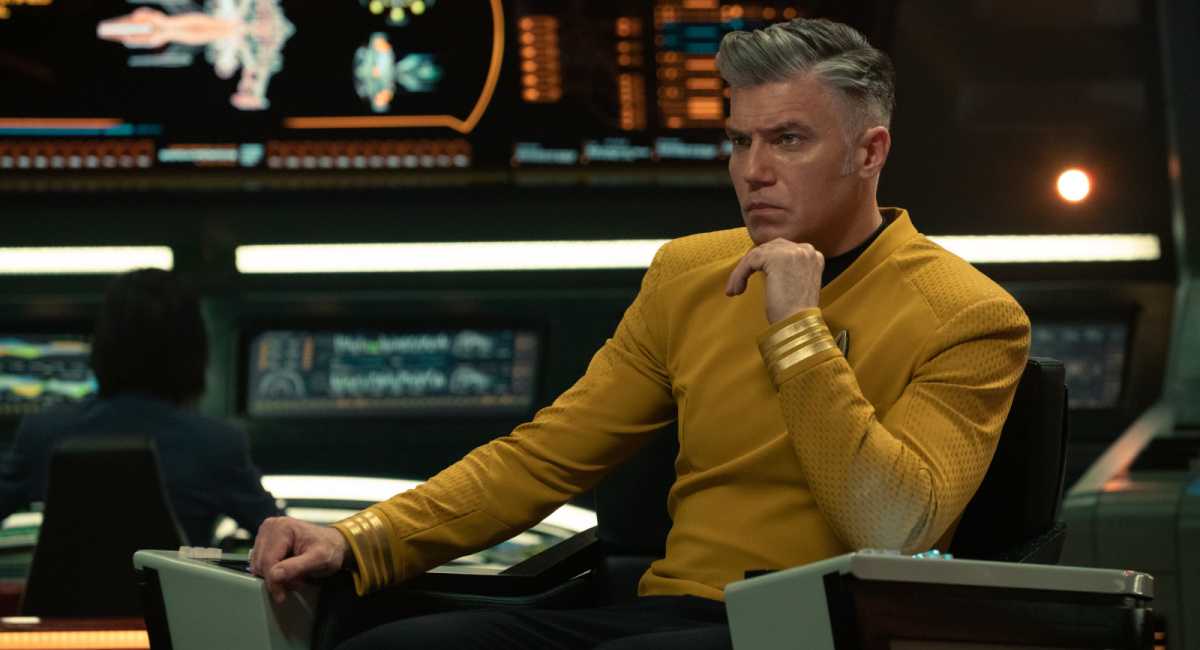 Returning to Paramount+ on June 15th, the second season of 'Star Trek: Strange New Worlds' continues the strong storytelling and adventure-of-the-week style that made the first season work.
It's a welcome return for Anson Mount's Captain Christopher Pike and the rest of the crew, who find themselves once more confronting some classic science fiction concepts while also bonding as a unit.
What's the story of 'Star Trek: Strange New Worlds?
Space…. The final frontier. Yes, the familiar refrain from the start of the original 'Star Trek' continues to define this latest take on the franchise. It's the continuing mission of the Starship Enterprise as it explores the titular strange new worlds, seeks out new life and new civilizations and all that boldly going stuff we all know so well.
For its second season, the show continues the blend of serialization and episodic adventures that worked in last year's first run of episodes. Initially, it picks up a couple of the threads left dangling from the end of Season 1 –– Lt. La'an Noonien-Singh (Christina Chong) taking leave from the ship to help a young survivor of the Gorn attacks find her family, and Starfleet prosecuting First Officer Una Chin-Riley (Rebecca Romijn) for hiding her genetically enhanced nature.
Once those are dealt with, it's on to the familiar, effective mix of continuing character arcs and new science fiction adventures, including Spock (Ethan Peck) having to deal with a tricky Vulcan ritual involving his potential in-laws while in an even trickier state, Noonien-Singh involved in a time travel adventure, Pike, Doctor M'Benga (Babs Olusanmokun) and their landing party stranded on a planet where memories are wiped every night and Ensign Uhura (Celia Rose Gooding) in contact with aliens that communicate via dreams and symbolism.
Who else appears in 'Star Trek: Strange New Worlds'?
In addition to the main cast, the show also features André Dae Kim, Gia Sandhu, Adrian Holmes, Melanie Scrofano, Dan Jeannotte, and particularly Paul Wesley as a certain Captain James T. Kirk.
Is 'Star Trek: Strange New Worlds' worth watching?
Live-action 'Star Trek' in the current TV has been led by the moody and serious 'Discovery', which, while it does have its flashes of humor, is much more focused on the drama side. 'Star Trek Picard' managed to find its footing in terms of blending laughs and action in its third season, but it is 'Strange New Worlds' that has emerged as the champion of blending an old-school 'Trek' feel with a more contemporary storytelling style.
Partly it all works so well because of the casting –– this is a crew that you truly believe actually wants to spend time together, and that transfers over on to the viewing experience. These are people you'd be happy to just hang out with, even if they weren't also dealing with exciting space adventures.
Related Article: Rebecca Romijn and Anson Mount Talk 'Star Trek: Strange New Worlds' Season 2
Mount continues to play Pike with a winning mix of gravitas and relatability –– when he's not barking orders, he's cooking or spending time with fellow captain Batel (Scrofano), a model of how to act as a grown up in a relationship you almost wish the future Captain Kirk had been taking notes on.
Peck's Spock is still a strong, worthy take on the iconic character, the actor able to play all the different shades. If the romantic connection with Bush's Nurse Chapel isn't always as authentic as the show wants us to believe, it doesn't, at least, harm either character. And he's also part of a comic highlight of the season to date.
Around them, the rest of the cast continues to excel. Some of the characters who had spotlights last season take something of a back seat here (it's surely not spoiling anything to relate that Number One's trial ends favorably, but after that she has a little less to do), but the sharing of airtime is a welcome one, giving some of the junior officers more to do.
New this year is star of stage and screen Carol Kane, who slots in perfectly as new, alien chief engineer Pelia. A being with a startlingly long lifespan, a unique attitude to life in Starfleet and an unusual manner about her feels like it was written for Kane to portray. The only downside is we don't get to have her interact with the rest of the crew nearly enough, at least in the six episodes of the season's 10 provided to critics.
And talking of unusual characters, we're also promised a crossover with animated 'Trek' series 'Lower Decks' as Tawny Newsom and Jack Quaid embody the live-action versions of Ensigns Mariner and Boimler that they voice on the other show. That episode wasn't on the list of those on offer, but let's be honest; if any 'Trek' series can handle a crossover with a joke-heavy cartoon show without suffering, it's surely 'Strange New Worlds .
The missions are a mixed bag –– some, such as in episode 1, 'The Broken Circle', allow for a lot of fun (Spock and some of the other crew stealing the Enterprise to aid one of their own riffs on 'Star Trek III: The Search for Spock'), while others 'The Lotus' Eaters' memory-resetting planet feels like a well-used trope that isn't given quite enough of a spin here.
But on the whole, 'Strange New Worlds' continues its impressive juggling act, the dramatic and warmly comedic sides still sitting comfortably in alignment. And it's reassuring to know that there is, these days, a style of 'Star Trek' to suit so many tastes. Long may these voyages continue.
'Star Trek: Strange New ' receives 8.5 out of 10 stars.
Other 'Star Trek' Movies and TV Series:
Buy 'Star Trek' Movies On Amazon