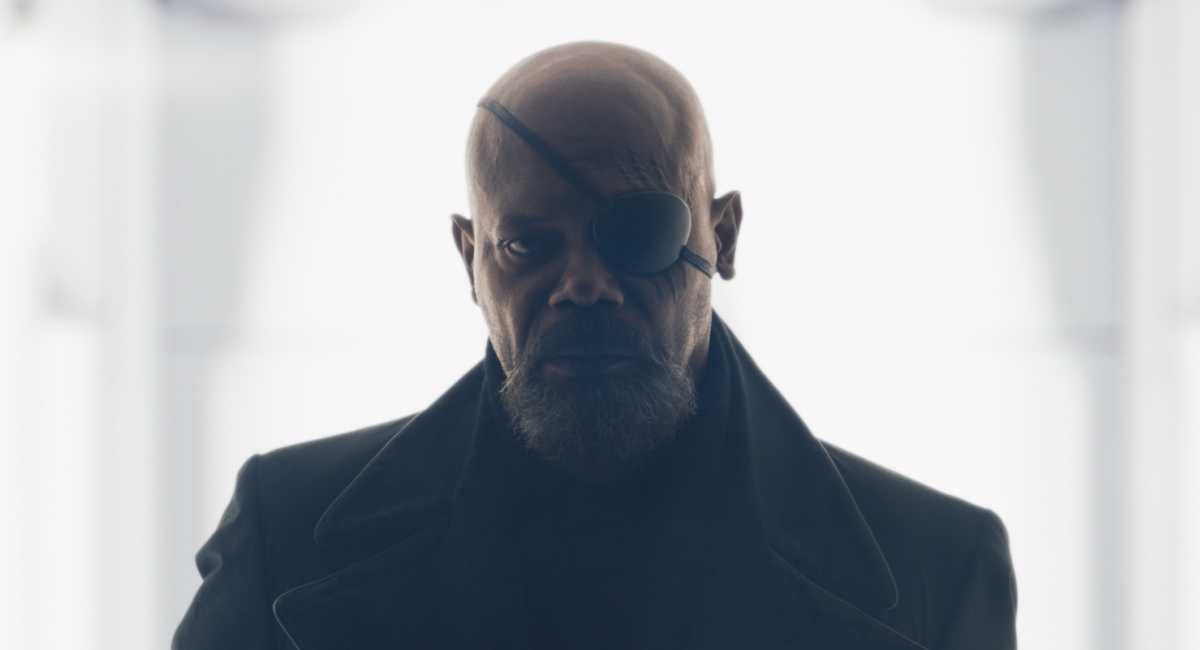 Premiering on Disney+ beginning June 21st is the new six-episode Marvel series 'Secret Invasion,' which is based on the popular comic book storyline of the same name and is the first MCU series of Phase Five.
What is the plot of 'Secret Invasion'?
In Marvel Studios' new series 'Secret Invasion,' set in the present day MCU, Nick Fury (Samuel L. Jackson) learns of a clandestine invasion of Earth by a faction of shapeshifting Skrulls. Fury joins his allies, including Everett Ross (Martin Freeman), Maria Hill (Cobie Smulders), James Rhodes (Don Cheadle) and the Skrull Talos (Ben Mendelsohn), who has made a life for himself on Earth. Together they race against time to thwart an imminent Skrull invasion and save humanity.
Who is in the cast of 'Secret Invasion'?
'Secret Invasion' stars Samuel L. Jackson ('The Avengers') as Nick Fury, Ben Mendelsohn ('Captain Marvel') as Talos, Cobie Smulders ('Spider-Man: Far from Home') as Maria Hill, Martin Freeman ('Black Panther') as Everett K. Ross, Kingsley Ben-Adir ('One Night in Miami…') as Gravik, Dermot Mulroney ('Scream VI') as President Ritson, Emilia Clarke ('Solo: A Star Wars Story') as G'iah, Olivia Colman ('Empire of Light') as Sonya Falsworth, and Don Cheadle ('Iron Man 2') as James "Rhodey" Rhodes.
Initial Thoughts
In the first two episodes, 'Secret Invasion' sets up an interesting character-driven espionage thriller that captures the paranoia of the original comic book storyline. Much like 'Captain America: Civil War' the new series is only an adaption in the broadest strokes, using the well-established Marvel Cinematic Universe as a launching-off point for a similar but not exactly identical story. Returning MCU actors Samuel L. Jackson and Ben Mendelsohn lead a strong ensemble cast, which also includes a charming and delightful performance from Oscar-winner Olivia Colman.
Story and Comic Book Adaption
2008's 'Secret Invasion' was a groundbreaking Marvel Comics crossover event that saw the Marvel heroes fighting a war with the shapeshifting alien race known as the Skrulls, who had systematically over the course of several years secretly invaded Earth by replacing many well-known Marvel characters, including members of The Avengers and the X-Men. The tagline for the series was: "Who do you trust?"
Marvel studios takes a smaller, yet similar approach with Disney+'s 'Secret Invasion,' which is not on as big a scale as the overreaching comic book storyline was. Instead, the series wisely takes only the idea from the comic book and then applies it to what has already been established in the MCU, similar to other Marvel "adaptions" like 'Civil War.' The series is more of an espionage thriller like 'Captain America: The Winter Soldier,' and is surprisingly very character-driven with some of its best moments coming from exploring Nick Fury and Talos' long friendship as established in 'Captain Marvel.'
The series begins with an American spy confronting a well-known MCU character with his theory that the Skrulls that Fury secretly let live on Earth have formed a terrorist organization that has infiltrated the highest ranks in governments across the world and plans to take the planet for their own. After laughing off this possibility, the MCU character is revealed to be a Skrull, and kills the agent. We then cut to Talos (Mendelsohn) who is working with Maria Hill (Smulders), and quickly contact Nick Fury (Jackson) to return to Earth from space, where he has been since the Blip (following the events of 'Avengers: Endgame').
Once reunited with Talos and Hill, Fury learns that Talos has been fired from the Skrull council, and that a Skrull named Gravik (Ben-Adir) is the leader of the terrorists, which also includes Talos' daughter G'iah (Clarke) as a member. Talos learns of where Gravik is planning his next attack, while Fury visits an old ally, high-ranking MI6 agent Sonya Falsworth (Colman), but she is unwilling to work with him and tells Fury to stand down.
Fury, Talos and Hill try to stop the attack but fail. Fury is blamed internationally instead and soon learns that there are more Skrulls on Earth than he previously believed. Not knowing who to trust, Fury reaches out to James Rhodes (Cheadle), and warns him of the impending invasion, but the US government wants to wash its hands of Fury. Meanwhile, we learn that Fury has a secret of his own, and so does Gravik, who is working on an experiment to make Skrulls stronger.
Nick Fury and Talos
Related Article: 'Secret Invasion' Trailer finds Samuel L. Jackson's Nick Fury Ready for War
The long friendship, as established in 'Captain Marvel,' between Fury and Talos is at the heart of the series. In the first two episodes, the series digs deep into their past showing us post-'Captain Marvel' moments that better explains the long alliance between Fury and the Skrulls, and the secret betrayals from both sides that have led to this moment. Some of the best moments of the first two episodes are the quitter, character-driven scenes that dive into that relationship and both characters' pasts.
Samuel L. Jackson definitely leads the series with his commanding gravitas, and after more than a decade of playing the character in a supporting role, it's nice to see Jackson and Fury front and center of this story. Make no mistakes, this is Sam Jackson's series! But Ben Mendelsohn is equally good as Talos, and again, the character is central to the story. He has some wonderful scenes with Jackson, as well as Emilia Clarke as his misguided daughter G'iah, last played by Auden L. Ophuls and Harriet L. Ophuls in 'Captain Marvel.' Originally teased as a villain, Talos has become one of my favorite MCU characters, thanks to Mendelsohn's thoughtful and funny performance.
Other Retuning MCU Characters
MCU regulars Cobie Smulders, Don Cheadle and Martin Freeman return as Maria Hill, James Rhodes, and Everett K. Ross, respectively, but all have limited roles, at least in the first two episodes. It's also worth mentioning that the MCU has a new US President, as President Matthew Ellis (William Sadler), last seen in 'Iron Man 3,' has been replaced with Dermot Mulroney's President Ritson.
New Characters
While technically not a new character, Emilia Clarke makes her MCU debut as Talos' daughter G'iah. Clarke seems fine in the role and has some nice moments with Mendelsohn, but other than running around, is not given a lot to do in the first two episodes, although I expect her role to get bigger throughout the rest of the series. Kingsley Ben-Adir plays Gravik and is certainly menacing in the role, but is a little too one note. Episode two attempts to flesh-out his backstory, and I hope there is more of that in the series and it can humanize the character a bit more so he's not just evil for evil's sake. But much like many fans have thought since 'Avengers: Infinity War,' "Was Thanos right?" The character does make a strong argument for his actions, from his point of view.
But the breakout new character of the series is definitely Olivia Colman's Sonya Falsworth. The character is unassuming, quite charming, and extremely dangerous, and Colman plays her with glee. Her interactions with Fury early on cement her place in the new MCU power structure, and tells the audience that she is not to be trusted. Is she a hero? Is she a villain? Is she a Skrull? Who knows? But Coleman is delicious in the role and clearly having fun with the part.
Who is a Skrull?
The short answer is that anyone in the series could be! As previously mentioned, a longstanding MCU character is revealed at the beginning of the series to be a Skrull. However, I do not believe that character has always been a Skrull, like it was in the comics. I think they were just a Skrull in this one appearance, but that could be proven wrong down the line. I don't think the series will reveal, let's say, that Tony Stark was always a Skrull, or something like that. But part of the fun of the comic book, and in turn this series, is that it keeps the audience guessing the entire time and raises our feelings of paranoia.
After two episodes I already have some theories, but honestly, like I said before, anyone could be a Skrull! I thought Rhodey was acting a little suspect when he met with Fury, but then again, Fury is definitely keeping a secret himself. It's also possible that there is more than one Fury, and that Sam Jackson is not always playing that character in 'Secret Invasion' when we see him. Only time will tell if that is true. Other suspects? Definitely President Ritson, my "Spidey-Sense" tells me they would not have cast an actor like Dermot Mulroney in an insignificant role. Also suspect, Sonya Falsworth, she's hiding something too but that could be a red herring. One of the strengths of the show is that it will keep you invested by keeping you guessing as the series goes on.
How 'Secret Invasion' will Change the MCU?
Ultimately, it's hard to say. Unlike its comic book counterpart, the series is not a huge scale crossover event, instead 'Secret Invasion' seems like a side-story that is taking place in the shadows. It's probably setting up a future Marvel project, possibly the next 'Avengers' movie, and its conclusion should have some ramifications moving forward. But I'm guessing, since this seems like a smaller, character-driven series, that it will mostly just affect Nick Fury and his role moving forward. While the Avengers and other heroes are name dropped, it's explained why they cannot help in this matter, and however the series concludes, it will be interesting to see if this storyline crosses over to any other future projects.
Final Thoughts
'Secret Invasion,' in the first two episodes, sets up an intriguing spy-thriller of a series, which is brilliantly led by Samuel L. Jackson's Nick Fury. Ben Mendelsohn and Olivia Colman give strong supporting performances in this character-driven Marvel series that will keep you guessing the whole time.
The first two episodes of 'Secret Invasion' receives 8.5 out of 10 stars.
Other Movies Similar to 'Secret Invasion':
Buy MCU Movies On Amazon