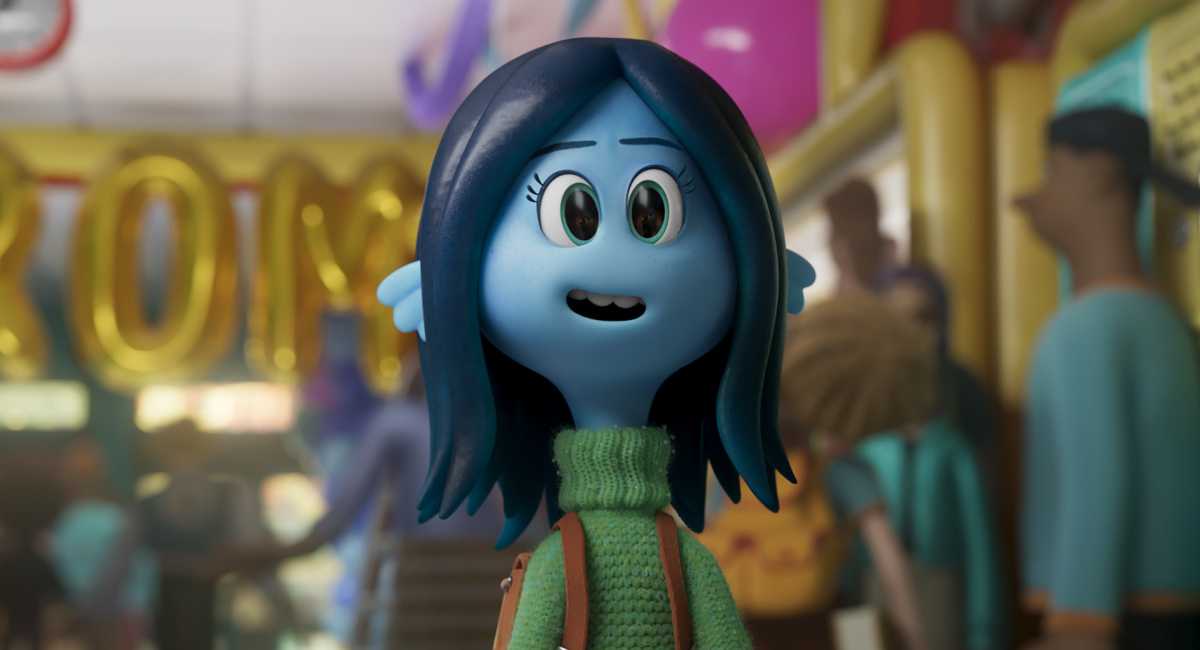 Opening in theaters on June 30th, 'Ruby Gillman, Teenage Kraken' has some interesting visuals and a catchy basic concept, but all of that is built on top of a very standard format and lessons that audiences will have heard a hundred times before. This doesn't necessarily detract from its entertainment value too much, though.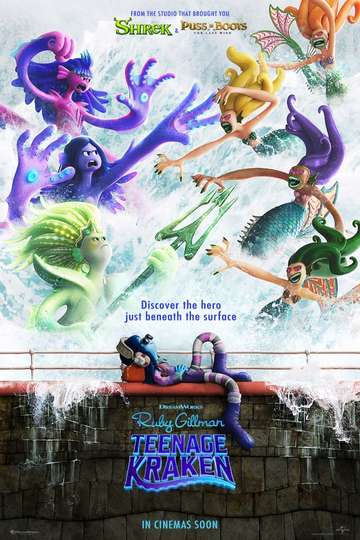 "Discover the hero just beneath the surface."
Showtimes & Tickets
A shy teenager discovers that she's part of a legendary royal lineage of mythical sea krakens and that her destiny, in the depths of the oceans, is bigger than she… Read the Plot
What's the story of 'Ruby Gillman, Teenage Kraken'?
After a quick prologue exploring the unexpected history of giant Krakens –– who in this universe are the staunch protectors of the oceans, doing battle with nasty mermaids –– we're introduced to teenage Ruby Gillman (Lana Condor), who doing her best to fit in at Oceanside High School.
She's got a group of loyal friends, a crush (Jaboukie Young-White's Connor, who she tutors in math), and a desperate desire to attend the prom. But what she also has is a highly protective mother (Toni Collette's Agatha) who is worried about Ruby going anywhere near the ocean… And the prom happens to be on a boat.
Turns out –– as the title suggests –– Ruby's family are all krakens, and Agatha brought the family from the ocean to the town before Ruby was born because she's terrified what might happen should her daughter go into the sea.
Ruby soon learns exactly why –– diving in to save a fellow pupil, she discovers that being under the waves activates her full Kraken self: she grows to kaiju proportions, sports three giant tentacles and has a host of other powers. She also meets her grandmother… sorry, "Grandmamah" (Jane Fonda), who just so happens to be queen of the krakens and encourages Ruby to embrace her destiny.
But our heroine really just wants to enjoy her life as a teenager, which is made even more complicated when she discovers that popular new girl Chelsea Van Der Zee (Annie Murphy) has her own secrets…
Who else is in 'Ruby Gillman: Teenage Kraken'?
The voice cast for DreamWorks' latest also includes Colman Domingo, Sam Richardson, Blue Chapman, Will Forte, Liza Koshy, Ramona Young, Nicole Byer, Echo Kellum, Jordan Matter and Brianna Paige Arsement.
Related Article: 25 Best Jane Fonda Movies of All Time!
What works about 'Ruby Gillman?'
The movie showcases a fun visual style that, while it won't challenge animated boundaries the way that the 'Spider-Verse' films do, it's nevertheless an attractive and, at times, electric variant of DreamWorks' usual style.
One or two sequences, such as Ruby's impassioned plea to attend prom, delivered via presentation video that calls to mind 'The Mitchells Vs. the Machines' do break away from the overall look, and are fun to watch. And whenever the action heads under the sea, the vibrant tones of the krakens and some other ocean life, plus Fonda's character's royal palace are realized with impact.
Likewise, the vocal performances are all convincing and emotional, if sometimes leaning towards standard. Collette mostly gets to be the worried mom, though in a nice touch, there's less of the usual teenager-mother stress than you might expect in a story such as this –– Agatha is given a few layers of her own, even before the movie explores her own parental issues with Fonda.
And credit to Condor (plus the writing team and directors Kirk DeMicco and Faryn Pearl) for making Ruby feel relatable and grounded despite her fantastical situation.
But the standout voice star here is Sam Richardson of 'The Afterparty' and 'Veep', as Uncle Brill, Agatha's brother who Ruby and her younger brother Sam (Chapman) have never even met. He's a bubbly, silly presence and Richardson totally fills the role. Brill is one of the best characters in the movie and the story is less entertaining when he's off screen.
Finally, while it isn't as loaded down with references as, say the 'Shrek' franchise, 'Ruby Gillman' does manage to offer a few winks. Forte's Kraken-obsessed Captain Lighthouse has definite Captain Ahab overtones about him. And it's no coincidence that one of the main mermaids in the film looks suspiciously like a certain Disney character who recently featured in a live-action reimagining of an animated adventure.
What are the movie's problems?
'Ruby Gillman: Teenage Kraken' is a fun enough film for families to enjoy, but there is a creeping feeling of familiarity. The whole Kraken storyline is inventive and has some new ideas on its mind, but at its core, it's full of the sorts of themes about believing in yourself and letting your true light shine.
Don't get us wrong: those are not bad ideas for a young audience in particular to ingest while enjoying the comedy antics and vocal performances. It's just that this latest animated offering does very little new with the concepts. We suppose there are only so many ways someone can be advised to embrace who they truly are. Or that you shouldn't abandon your friends when big things happen in your life. Or that parents and kids really need each other more than they realize. Or… you get the picture.
There are also a few other elements which will have regular viewers of such movies sighing and tutting in recognition as they sit through the 700th version of a character exploring a new world set to a pop hit. For all its story benefit, it's mostly wasted time.
Final Thoughts
Naturally, DreamWorks is hoping this is the launching point for a new franchise, but fortunately there's only some mild, subtle nods to the idea that the story could continue. For its flaws, 'Ruby Gillman' does feel like a full story on its own.
It's good to report that this is not the 4th installment of a long-established series of movies, because there should always be room for original filmmaking.
'Ruby Gillman: Teenage Kraken' receives 6 out of 10 stars.
Other Movies Similar to 'Ruby Gillman, Teenage Kraken:'
Buy Jane Fonda Movies on Amazon
'Ruby Gillman, Teenage Kraken' is produced by Universal Pictures and DreamWorks Animation. It is set to release in theaters on June 30th, 2023.